Cambridge, MA, February 21, 2020 – Astrocyte Pharmaceuticals Inc. presented the results of a key preclinical efficacy study today at the International Stroke Conference in Los Angeles demonstrating the efficacy of AST-004 in a non-human primate (NHP) model of stroke. Dr. Theodore Liston, Vice President of Research at Astrocyte, presented the talk entitled, "Significant Efficacy of Adenosine A3 Receptor Agonist AST-004 In Rat And Non-human Primate Models Of Transient Middle Cerebral Artery Occlusion." The International Stroke Conference is the world's premier meeting dedicated to the science and treatment of cerebrovascular disease with over 4,000 attendees.
Of the approximately 800,000 strokes that occur annually in the United States, ~20% are occlusions of large blood vessels such as the middle cerebral artery (MCA). A subset of these patients will have successful thrombolysis or thrombectomy to remove the occlusion and restore blood flow, which improve clinical outcomes for the patients. However, over half of these patients will still be significantly disabled. Astrocyte Pharmaceuticals partnered with Hamamatsu Pharma Research to assess AST-004 in an NHP model that simulates the transient middle cerebral artery occlusions experienced by these patients, to see if AST-004 can demonstrate efficacy and further benefit.
In the NHP subjects experiencing transient MCA occlusion, treatment with AST-004 demonstrated statistically significant reductions in the resulting brain lesions. AST-004 significantly protected ischemic tissue and limited the growth rate of the brain lesion. "The effects of AST-004 have been remarkable as we are improving upon thrombolysis and thrombectomy, and further preserving almost half of the brain that would have been lost to the stroke," said Dr. Liston. "Slowing lesion growth rate would also enable more patients to reach thrombolysis or thrombectomy, and have better outcomes."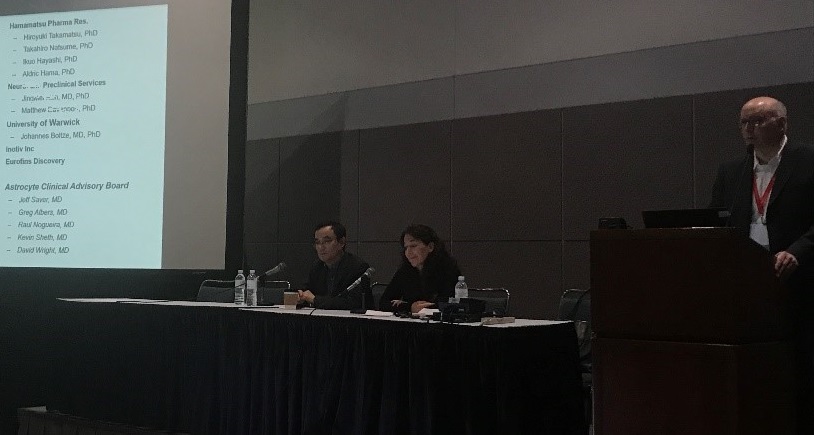 "Seeing these large lesion reductions in a non-human primate animal model significantly increases the likelihood that AST-004's efficacy will translate to human strokes," commented Dr. Gregory Albers, Director of the Stanford Stroke Center and a member of Astrocyte's Clinical Advisory Board. "We look forward to seeing AST-004 tested in stroke patients in a future clinical trial."
"I am impressed," commented Dr. Hiroyuki Takamatsu, founder and CEO of Hamamatsu Pharma Research, Inc. "At HPR, we have done over 60 non-human primate stroke studies and based on our results, AST-004 could be the first neuroprotective agent for the treatment of acute stroke."
The AST-004 program is currently in preclinical testing and expects to advance to human clinical studies within a year.   For more information about Astrocyte Pharmaceuticals please contact Dr. William Korinek at 617-444-8765 or info@astrocytepharma.com.
###
About Astrocyte Pharmaceuticals Inc.
Astrocyte Pharmaceuticals Inc. is a privately held drug development company dedicated to accelerating the recovery and well-being of brain injury patients. The company is committed to proving the neuroprotective benefits of enhancing astrocyte function, and advancing breakthrough therapeutic agents for treating brain injury resulting from stroke, TBI, concussion, and neurodegenerative disorders such as Alzheimer's disease.
About Hamamatsu Pharma Research, Inc.
Hamamatsu Pharma Research, Inc. (HPR), now in its 15th year, is a contract research organization based in Hamamatsu, Japan, a leader in preclinical efficacy evaluation of novel therapeutics in non-human primate models of stroke. HPR combines long experience in stroke modeling in non-human primates with in vivo neuroimaging for comprehensive evaluation of potential therapeutics. For more information about HPR, please visit: https://www.hpharmausa.com or contact info_us@hpharma.jp.